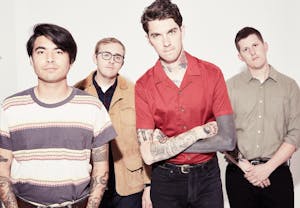 with Stef Chura and Strange Ranger
Joyce Manor
Stef Chura, Strange Ranger
The Bishop
Bloomington
,
IN
Doors - 8:30pm Show - 9:30pm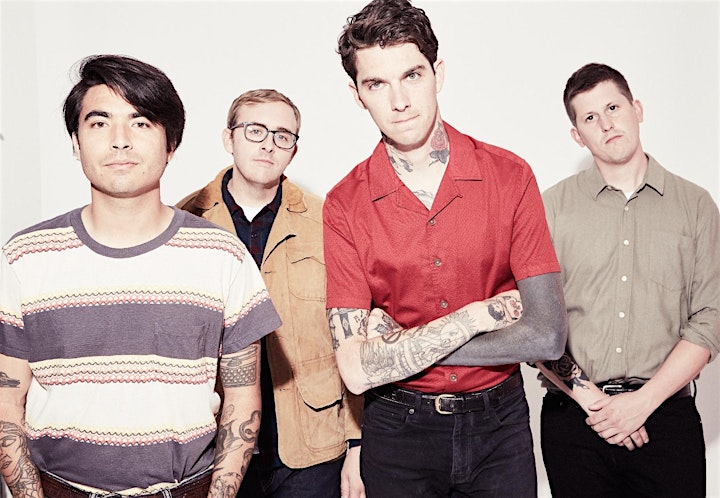 Let's start the story of Joyce Manor's Million Dollars To Kill Me at the end of Million Dollars To Kill Me—at the last not-even two minutes of "Wildflowers," a song about light and beauty and wonder that ends the record like a sunrise after a long exhausting night. It's not a sing-along single or a bleaked-out slow-burner. It's brief, understated, and simple but sophisticated as it says what it needs to say in seven sharp lines. And it ends the album with a question instead of an answer, because on an album like this, questions are more honest. If 2016's Cody was about growing up, then Kill Me is about what happens next—the reckonings with love, money, doubt and confusion, and the hope that persists despite it all. That's where "Wildflowers" comes in. Says Barry Johnson, band co-founder/guitarist/vocalist: "'Wildflowers' is my favorite song on the record—maybe my favorite song I've ever written. It's about how something can be so beautiful it breaks your heart."
That's Million Dollars To Kill Me: an album that glides across that tension between two perfectly opposite feelings. That's even how the guitars fit together. It's in the way co-founding guitarist Chase Knobbe can somehow make a song sound sadder and tougher at the same time, says Johnson, or the way Johnson mixes minor and major chords to invoke a precise kind of overpowering melancholy. ("I like when songs have a feeling of yearning," says Johnson. "It just feels good to me. Makes you wanna cry.") It's even in the way the album was made because it didn't start as a Joyce Manor album at all.
After Cody, Johnson contacted Impossibles' guitarist/vocalist Rory Phillips—"One of my musical heroes," he says—to produce the next Joyce Manor album. Phillips couldn't fit the commitment between work and family, but another idea materialized: what if Johnson and Phillips made a new band together? Over email, of course, since they were thousands of miles apart? So Johnson would send his half, and Phillips would send a whole song back, and it worked well. ("It was just really exciting to mail away for a song," says Johnson.) Then it worked too well. When Johnson asked Knobbe to add some guitar—on the original "Wildflowers," actually—he understood what was happening. What he'd thought of as "weird songs that were created with fake drums between two guys who were never in the same room with each other" were revealing themselves as the start of a new Joyce Manor record.
So they made a new Joyce Manor record. With Knobbe, new drummer Pat Ware—"Awesome new drummer," adds Johnson—and longtime bassist Matt Ebert, they wrote enough songs to fill a full-length, and then worked to get the ones lifted from emails to match the ones written at full volume. ("Bedroom charm versus live rock band," Johnson explains.) Their next step was a new step: their first time recording outside their L.A. hometown, at Converge's Kurt Ballou's GodCity studio in Salem, Massachusetts. They recorded daily 10-to-6 so Ballou could spend dad time with his kids at night, and then slept right upstairs in bunk beds: "Kinda felt like camp," says Johnson. "It was a pleasure—I would recommend it to anyone."
Kill Me kicks off with "Fighting Kangaroo," part Jawbreaker wit and part Jawbreaker grit, while follow-up "Think I'm Still In Love With You" digs deep into that pit between pleasant memory and unpleasant present. (Or is that what "Friends We Met Online" does?") There's the instantly catchy "Silly Games," the deadpan blue album Weezer-style pop song where Johnson and Phillips started everything, and the Britpop-py (or Teenage Fanclub-by) title track, with a final line that lands like a boulder toppling off a cliff. There's the acoustic "I'm Not The One," with equal connections to Big Star, Billy Bragg and San Pedro hometown hero Todd Congelliere, who could make a sing-song playground melody sound profound. There's a little studio-inspired experimentation: e-bow on "I'm Not The One" and glockenspiel on "Silly Games," both Joyce Manor firsts. ("I never once suggested putting glockenspiel on anything but I think it works!" says Johnson.) And finally there's "Wildflowers," that unexpected inspiration for turning weird songs with fake drums into real songs with real drums and real everything, really. That's how Kill Me began, and that's how it ends—clear, honest, direct and true. Which is about all you could ask for, whether you're starting a record or finishing it. Or listening to it.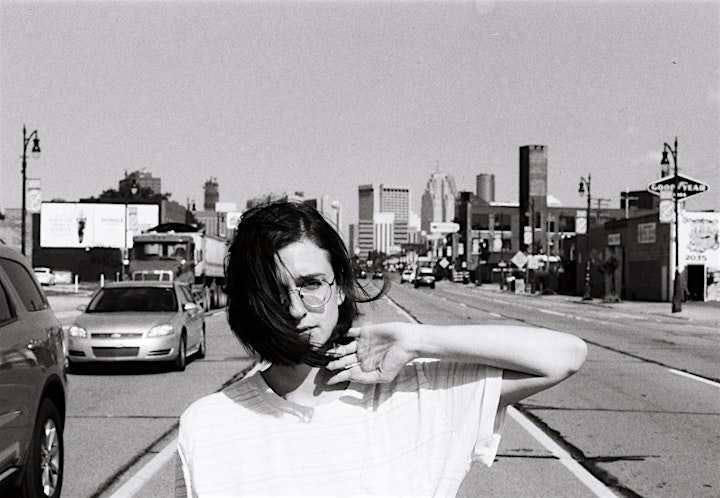 "For most people who create art I would assume there is some kind of deep unanswerable hole in your soul as to why you're making it…" So says Stef Chura ahead of the release of Midnight, her gritty, vehement new album, recorded and produced by Will Toledo of Car Seat Headrest - and her first new collection of songs for Saddle Creek, out June 7th. Illuminating that search for answers with a fevered sense of exploration, Midnight is a bold leap forward from Messes, Stef's contagious debut album, with every aspect of her new work finding bold ways to express itself as it rips through twelve restless and relentless new tracks. Today, she also shares the first single, "Method Man, " a boisterous three-minutes that melds jagged, skewed guitars with a distinctive voice that has a new-found sense of confidence while touching on a vulnerable moment in Stef's life. She also announces a North American tour in support of the new album. She explains "Method Man" below:
A long time ago I was pondering the literal words "Method Man" while listening to Wu-Tang. There was a person in my life that I had a confusing array of emotions for, sometimes I was in love with him, I admired and looked up to him, I thought of him as superior to me. He was older than me and I was a teenager. At that age I experienced a titanic amount of anxiety that usually expressed itself as silence.
This song was born out of a total frustration regarding a man who seemed "methodical" to me. He was literate. He waxed poetic. Almost someone…how do I say this…that you wanted to be condescending to you? As long as they were talking to you. He drank a lot of energy drinks and had this overall outlook that no one understood him. That he was in on some kind of cosmic secret that I couldn't get. He smoked so many cigs it stained his fingers yellow.
He was always talking, and I was so enamored with this person. I was always nervous to reply. He would go on and on for hours. He sometimes would look at me and be like "oh maybe you won't get this…. maybe you don't get this." I was too terrified to say much.
A couple of years on from the release of Messes, Stef is still based in Detroit, that most singular city which has seen it all, from the no-mans-land of its initial collapse through to the resurgent place it is now. Stef found inspiration from the people she surrounded with herself with, more so than the place itself. It's no surprise that Midnight is testament to those kind of characteristics; a rugged and robust burst of defiance. "I'm usually dealing with the context of what I can't say or haven't said," Stef says. "A kind of spiritual bondage that I would say most people, probably a lot of female bodied ones, put themselves through."
Which is to say that if its predecessor was a raw, somewhat unadorned document of Stef's work, then Midnight is the muscular, swaggering evolution. "This album has a depth to it and a particular sound because of Will," Stef states regarding Toledo's input, whose spiky nuances can be found across the length and breadth of Midnight, the record presenting an exhilarating rush of sound and color as Stef's spirited vocal finds and signature guitar sounds unravel alongside in a thrilling meeting of ideas and influences; dispelling demons, song by song.
Equal parts thrilling and angsty, Midnight is a testament to the collaborative process, a record that makes the very most of those who came together to make it, but more than that, it's a firm statement of tenacity and perseverance, of not resting on your laurels but leaping forwards no matter the situation you find yourself in. From out of one day and into the next.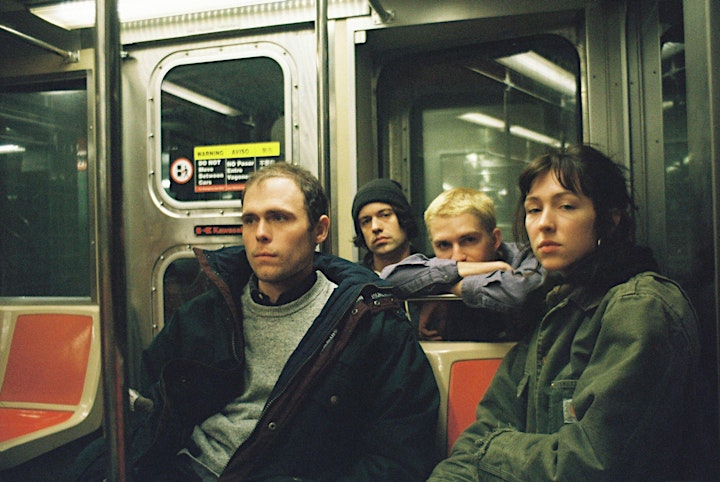 Strange Ranger (fka Sioux Falls) is an Indie-Rock/Post-Punk band from Montana, now based out of Portland, Oregon. The band was formed by the duo of Isaac Eiger and Fred Nixon, who have been playing music together since 2009 when the pair were still in high school. A friendship solidified by their mutual love of early Modest Mouse, the two would eventually make the move to Portland in search of more fertile musical soil. The band would struggle to solidify over the next few years but those hardships would lead to their breakthrough debut full-length, the sprawling Rot Forever under the name Sioux Falls, released in February of 2016. From there it has been a whirlwind of notoriety for the band. Rot Forever was named one of Consequence of Sound's 'Top 50 Albums of 2016.' Later in 2016 the band would change their name to Strange Ranger and release a new EP, Sunbeams Through Your Head, which would make Stereogum's list of "Great EPs from 2016." Those two releases would also lead Stereogum to name Strange Ranger one of "2016's Best New Bands." Along with that name change, the Sunbeams Through Your Head EP would be a prelude of the direction to come for the band with their next release.

Over the Winter of 2016/2017 the band would record their sophomore full-length, entitled Daymoon. Due to be released on Tiny Engines in the Fall of 2017, Daymoon naturally evolves from the expansiveness of Rot Forever in favor of a smarter and more focused approach. Because of that the album feels more subdued and organic in its approach. While Rot Forever seemed like a band throwing absolutely everything out there, Daymoon pulls back and showcases a heightened attention to detail from the group. Yet that honest heart-on-sleeve songwriting still remains even if the band has chosen subtler paths to deliver their message. It a tasteful evolution for Strange Ranger and one that looking back will be seen as a bridge to something even greater to come in the future.

Venue Information:
The Bishop
123 S Walnut Street
Bloomington, IN, 47404